One day tickets in the upper part of Reisa River is put up for sale
In Reisa River you can fish for big salmon in 27 km of spectacular nature. A large part of fish stretch occurs in the Reisa National Park. All this on a single day tickets for around 300 Nok!
Watch this film to get an impression of the area.
How to buy day tickets
If you want to fish the upper part of the Reisa River, you can buy these as ordinary days tickets at www.scanatura.no for zones 11-14 and 15-19. It is available up to 18 day tickets for zone 11 to 14 and up to 20 day tickets for the zones 15-19. On these cards you will have many kilometers stretch fish and stunning scenery available on the same day ticket.
Transportation, fishing and nature
If you want to fish in spectacular surroundings, fishing zones is a 11-19 good choice. Here you will get the feeling of wilderness close you, and have access to many good pools. All zones have good areas suitable for both fly fishing. Many of the largest salmon migrate up here, and stops in the great pools. Otherwise there is a good population of brown trout great here. Brown trout of 2-4 kg are not uncommon.
A trip to this part of the river is highly recommended. You can among other things experience Mollisfossen with a drop of 269 meters, or beautiful Nedrefoss where you can stroll on a suspension bridge over a gorge which the river flows through.
Zones 11-19 are not accessible by car. It is possible to walk along a marked path for could, but this solution is somewhat cumbersome. An exciting way to experience the upper part of the river is being transported by riverboat up and paddle down and stop to picnic and fishing in exciting places.
Some choose to take their canoe in the river boat to paddle and fishing through zones. Reisa River is an ideal and "kind" river to paddle. Canoe can be rented at Saraelv Villmarksenter.
Another option is to be transported up to a the many camp sites with riverboat, pitch a tent and fishing in the selected area, then be collected at the agreed time.
Some of the most famous fishing spots (Zonenr in brackets): Ansamukka (11), Furuholmen (12), Gauraniva (12), Hovenkivi (13), Sieima (13-14), Dissaltakka (14), Tornio (15) Molliskulpen (16-17), Mutasuvanto (18), Naustneset and Nedrefoss (19).
See zone map for more information.
Guiding and riverboat
Recommended guiding and riverboat transportation:
| | | |
| --- | --- | --- |
| Reisa Valley Guides | +47 958 93 168 | e-post |
| | +47 930 38 384 | |
| Guide Morten Bergland | + 47 959 94 180 | |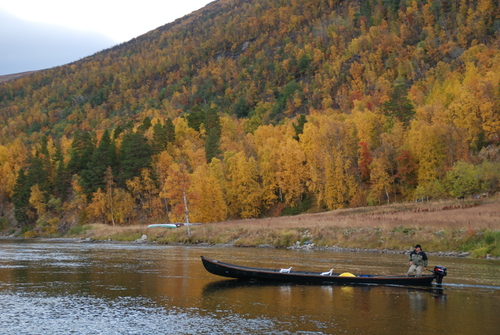 Med elvebåt i Reisaelva
---
Here, fishy fishy fishy...